I was chatting with Kyle today and released how insane 2017 truly has been. This is really crazy considering that I only had 10 months out of the year to do anything. For those of you keeping track of what I'm doing, this will help to see if you missed anything that I've done. Here we go:
– 4 NES Homebrew Games Released
MilesCon 2016 Bad Bitch Edition
Commie Killer featuring Jeffrey Wittenhagen
VGBS Gaming Podcast Season 1
Jeffrey Wittenhagen's Black Box Challenge (including 3 different versions)
– Best of NES Homebrew Box Set Released (with 12 amazing NES Homebrew games!)
– 4 New Books Distributed
The Complete SNES (small variant cover print run)
Super Nintendo Entertainment System Compendium
NES Oddities & the Homebrew Revolution
Nintendo Entertainment System Compendium
– 3 Books Created
NES Oddities & the Homebrew Revolution
Nintendo Entertainment System Compendium
The Complete SNES: Definitive Edition (over 400 Super Famicom games added)
– Refined the Complete NES Paperback for a VGM Limited Edition
– 3 Successful Kickstarter Campaigns
NES Oddities & the Homebrew Revolution/NES Compendium Books
VGBS Gaming Podcast Season 1 Physical Release / NES Cartridge
The Complete SNES: Definitive Edition Book
– Helped Silver Phoenix with a successful Kickstarter for The Haunted Tales of Bachelor's Grove comic book series (There is a Hagen's Alley Books old school comic book ad in Issue #1!)
– 28 Main VGBS Episodes Released (way more recorded)
– 40-48 Total Podcast Episodes Released (including lives and Phobos)
– Too many interviews and videos reviewing my books and game releases to count!
– 7 Conventions Attended (all with panels, and I had to miss 5 because of training…)
MAGFest
Midwest Gaming Classic
TooManyGames
ReplayFX
Coleco Expo
Game On Expo
A Video Game Con
– Was part of The Bits of Yesterday video game documentary, which was screened at conventions this year! (It should also be on blu ray/dvd soon!)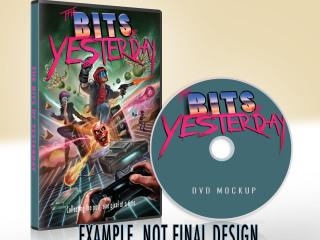 For 2018 I'm going to be slowing things down a bit, but there are still quite a few goals. Here's what is on the "To Do List":
Distribute The Complete SNES: Definitive Edition (this will happen during the first couple months as I am just waiting on the printers)
Do a small print on demand release of The Complete NES paperback (only printing whatever is preordered)
Finish up Hidden Gaming Gems: Generation by Generation (re-release of my first book and is about 50% done)
Finish up the Walter Day Trading Card Book (I may or may not be doing a full release of this)
Create The Complete Genesis (started on the layouts)
Create the 1992 Video Game Culture Chronicles book
VGBS Gaming Podcast Season 2 NES Release
So there will likely only be one campaign for a book and one for VGBS Season 2 next year, but who's to say!? Here's to 2018 being another amazing year!